Beautiful, Super Energy-Efficient Patio
and Sliding Glass Doors
Patio Doors For Denver, Boulder, Colorado Springs, Aurora & Other Colorado Front Range Communities
We install best-quality patio doors with TRIPLE-PANE GLASS. Our patio doors are beautiful, durable, energy-efficient, and come with a real warranty you can trust.
Why is triple-pane glass so important for a patio door? Since the glass area on a patio door is so big, it is one of the main places in your home where energy escapes. In fact, when you think about it, your patio door is the largest window in your house, and the one you use the most.
That makes it absolutely crucial to have triple-pane glass if you want to have the most comfortable and energy-efficient patio door possible. It also means your home will be quieter because triple-pane glass greatly reduces sound penetration compared to single or double-pane patio doors.
Another benefit of triple-pane patio doors is they are much harder to breakthrough, so your home will be more secure.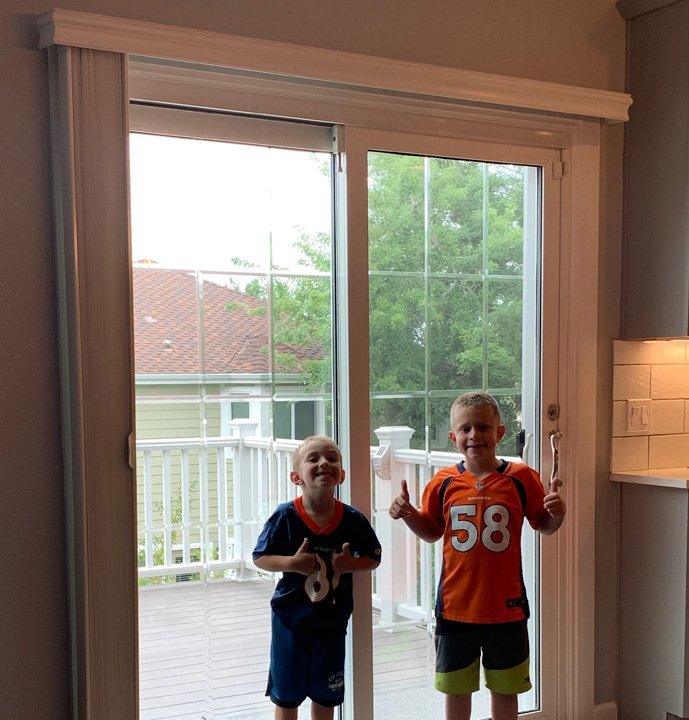 These patio doors are also super attractive, with a seamless, elegant look that requires virtually no maintenance. The frames on these patio doors are reinforced with High Density Resin – greatly superior to the hollow vinyl frames or foam-filled frames that that a typical Colorado patio door company will install.
Ameritech Windows also offers homeowners a beveled glass option. We highly recommend this – once you see how beautiful beveled glass is in a patio door, you're going to want it. It adds a tremendous 'WOW' factor to your home!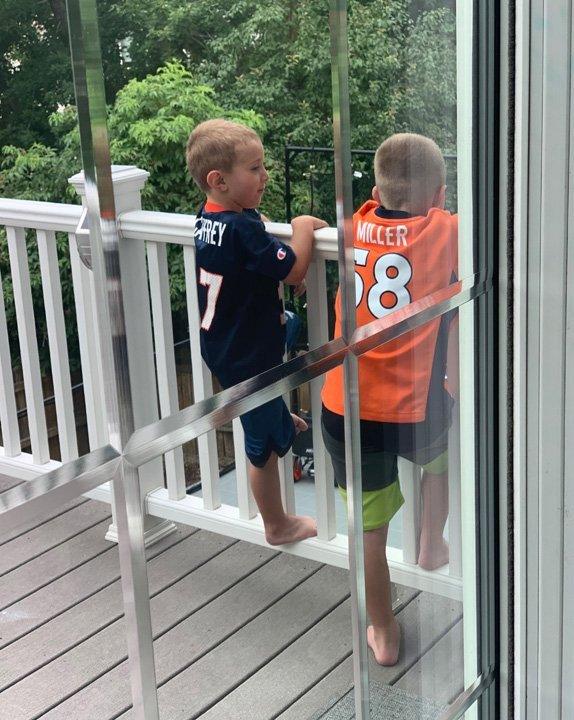 They come with 2 steel locking bars that bolt into steel receivers in the head and sill with one easy motion. That makes prying these patio doors open virtually impossible (no more need for that unsightly broom handle!).

All patio doors come standard with bug-stoppers and screens.

All patio doors also have additional keyed vacation/security/vent-limit locks. You'll love the secure feeling our special vacation lock gives when you go away.

These patio doors save money and protect your air conditioning and heating systems. Those systems run less often because these patio doors retain the energy in your home.

You can choose from a wide array of lifetime warranted Schlage Hardware choices.
Here's a great reason to call on Ameritech Windows: our 100% proven reliability. We're the patio door company serving Denver, Boulder, and the Colorado Front Range for 25+ years. Our installers are very experienced, knowledgeable and proud to be the best. Windows and doors are all we do!
Ameritech Windows – Patio and Sliding Glass Door Installation For: