Superior Replacement Windows In Centennial
The A+ Rated Window Company That Installs
The Best Triple-Pane Windows With Strong Frames
Ameritech Windows installs the very best windows in Colorado. Centennial homeowners who want the windows that are far superior to typical replacement windows will be thrilled with the results we deliver.
The fact is that most windows being offered aren't nearly as high-performing and energy-efficient as they should be. For example, most windows on the market are double-pane windows. The windows we install all come with triple-pane glass, giving you maximum in-home comfort and energy savings.
Before making any final decision on window replacement, Centennial homeowners should reach out to us for a free quote – you'll be able to see for yourself the amazing quality of our windows.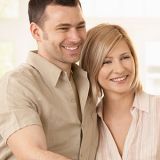 Richard B.
"The installation was very efficiently done. Great Work. The installers were professional and respectful. Thanks."
Dana N.
"Again, I am extremely satisfied with every part of my experience and the product."
Steven & Chelsea M.
"5-stars all around! Quick and Easy."